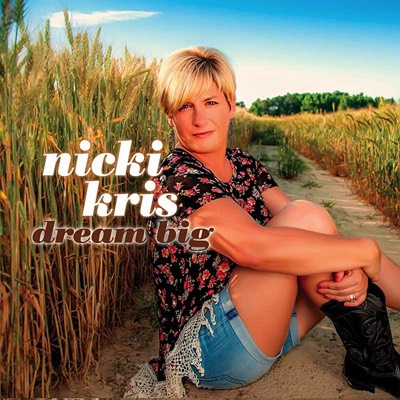 With the release of her debut album,
I Come Alive
, still generating quite a buzz in the music industry (including a two song placement on the official 56th first round GRAMMY® Ballot for "Best Pop Solo Performance," and the inclusion of her track
Beautiful
on Lifetime's highest-rated show 'Dance Moms'), Nicki Kris raised the bar with her sophomore effort,
Dream Big
. The arrangements follow an Americana / country feel, and Nicki's soaring vocals and distinctive tone bring out the storytelling approach in her writing.


Nicki's comments:
Earlier this year after talking with my agent, it became clear that the type of music that I wanted to create and produce would have to bring together multiple genres, fit the tone of my voice, as well as give listeners something that they could emotionally latch onto. After combing through my song library along with writing a new one or two, "Dream Big" is the culmination of my Alternative, Retro 50's Rock, and Country musical obsessions. This is my vision of what Americana music means to me.

Keeping things simple was really hard for me, but adding a twang here and there actually came quite easy. I loved the whole concept of an acoustic influence, so I even bought a guitar that I'm still teaching myself to play.

The songs themselves are quite simple, yet engaging in my opinion. Some have a personal meaning, like the title song "Dream Big", while others, such as "Does She Love You" were written because I wanted to give a voice to a different perspective. My goal with this EP was to give listeners more insight into the type of songwriter and vocalist I am. I hope you all enjoy listening to it as much as I did writing and recording it.

I would like to thank Al Gomes and A. Michelle with the rest of the Big Noise team for all of their insight, suggestions, AWESOME album art, and most of all ongoing support. Tarik Ghiradella for being the coolest drummer I know! Daniel DeLorenzo for his continued patience and thoughtful suggestions. My family and friends who continue to support and push me toward following this crazy dream of mine. To the fans, old and new: remember you are never too old to DREAM BIG.


Dream Big
Songwriter:
Nicki Kris

Keyboards / Kazoo / Vocals:
Nicki Kris

Guitar (Tracks 1, 2, 3):
Daniel DeLorenzo

Drums / Percussion:
Tarik Ghiradella

Produced by:
Nicki Kris

Engineered and mixed by:
Daniel DeLorenzo

Recorded and mixed at:
Daniel DeLorenzo Studios, Pittsboro, NC, Dark Pines Studios, Graham, NC

Mastered by:
Kevin McNoldy at Cphonic Mastering Studios

Album Art Photography:
Integrity Imagery

All songs © 2014 Nicki Kris Music, LLC (BMI)